Technology has gone supersonic in the past ten years. Our electronic devices expire faster and recycling centres are stuck with mountains of old computers, tv´s, dvd´s, phones, printers, VHS casettes and so on. Anyone who uses these discarded technologies as material for their projects or products is my idol.
Geek-ware blog
("adventures of an e-waste recycler") is dedicated in finding new ideas and the people that gid through piles of computers and other tech-stuff to give them a new purpose or look. Artists have also come up with fab new inventions when studying our relationship with these everydaymachines. Recycle-retro-tech rocks!
Customizing your computer screen
: Instructions
HERE
How cool is this.. And did you notice the keyboard??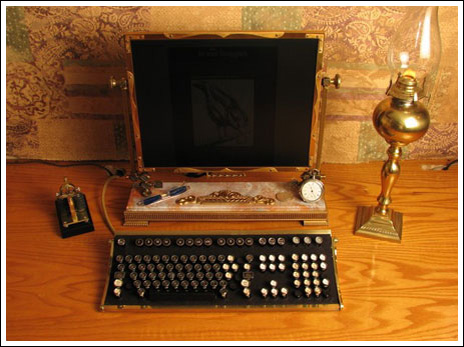 Recycling computer disks:
Floppy disc notebooks
Disc notebooks
CD-case:
Privacy-laptop sweater
and other
Body-Technology Interfaces
.
Mac-jewelry:
Sheeps in technology heaven:
Original post
HERE